Documentary
TIFF13 Review: Hi-Ho Mistahey!
Alanis Obomsawin has made quite a body of work centered around the rights of Canada's native people and she returns in form with Hi-Ho Mistahey!, a look at the deep disparities in the Attawapiskat First Nation's public education system and Shannen's Dream, a national campaign to provide equitable access to education for First Nations children. And before you decide this sounds like a festival bring down – spoiler alert – this the rare documentary with a positive outcome and leaves you with some hope for brighter times.
In 2000, the elementary school in Awattapiskak was closed and razed once the land it sat on was deemed toxic. Since then, the students have attended classes in outdoor portables with heating and vermin issues. Frustrated with the endless budget delays for a new school building, teenager Shannen Koostachin, spearheaded a grass roots campaign and reached out to children across Canada. While the movement was initially powerful, Shannen's tragic death in a car accident fueled the flames and created a roar so loud, Parliament was forced to actually pay attention.
This story in Hi-Ho Mistahey! is genuinely inspirational and positive, though Obomsawin wanders a bit too much in the film. In an effort to paint a picture of the community, she includes odd interludes about meat smoking and suicides that have nothing to do with the central narrative. Still these are forgivable flaws in light of the sheer joy of watching Shannen Koostachin, as eloquent a teen as ever there was, and the inspiring power of seeing a movement that achieves results.
Catch Hi-Ho Mistahey! if you can at the festival, but it is an NFB film so it's sure to make it's way to a screen either large or small eventually.
Screening Time for Hi-Ho Mistahey!
Saturday September 7 TIFF Bell Lightbox 1 4:30 PM
Monday September 9 Jackman Hall 2:00 PM
Saturday September 14 Jackman Hall 6:00 PM
A Gallery of Images from Hi-Ho Mistahey!
Watch the Hi-Ho Mistahey!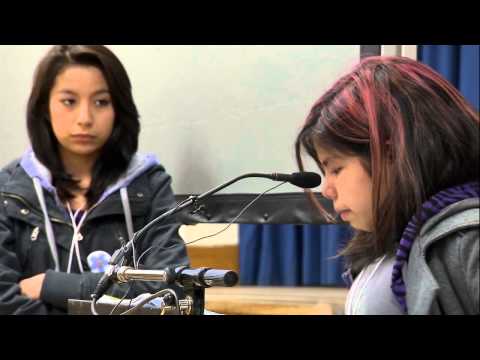 The Pretty Clever Films TIFF13 Coverage is brought to you in part by MUBI, your online cinemeatheque.