Documentary
TIFF13 Review: Burt's Buzz
Burt's Buzz, from director Jody Shapiro, ends up as the slickest corporate video ever (and only slightly more exciting). The doc tells the tale of Burt Shavitz, former photojournalist (oh, he took that photo of Allen Ginsberg!) turned backwoods beeswax mogul and founder of everyone's favorite natural body care products, Burt's Bees. Surely you have a few of those lip balms rolling around in a draw somewhere, all the bearing the illustrated, bearded visage of Burt. If you've ever wondered if Burt is real – well, look above. He is!
Unfortunately for Burt's Buzz, Burt is now old, reclusive, and curmudgeonly. He's been ousted from the operations of Burt's Bees by his former lover and business partner Roxanne Quimby and cheated out of millions, but he doesn't want to talk about that. He's also still somehow the public face of the company, cause well – his face is on the packaging and he's greeted like a rock star in Taiwan, but he doesn't want to talk about that. He lives in a kind of shack next to a smaller shack in Maine, without the modern conveniences of electricity or running water, but he doesn't want to talk about that. He also has a full time babysitter to get him to public appearances on time, but nobody including the babysitter, the director, Burt, or reps from the company want to talk about that.
You're beginning to see the problem with this documentary, right? The truth is that Burt Shavitz is funny and charming in that crazy coot kind of way, but as his handler tells us, Burt really does not care about things like money, business, and fame. In other words, Burt doesn't care about the parts of his story that the rest us find most intriguing, making the doc a bit of a disappointment engine. Skip the rush lines and wait for Burt's Buzz to hit Netflix.
Screening Times for Burt's Buzz
Sunday September 8 Isabel Bader Theatre 3:45 PM
Monday September 9 The Bloor Hot Docs Cinema 9:00 AM
Friday September 13 The Bloor Hot Docs Cinema 12:00 PM
A Gallery of Images from Burt's Buzz
Watch the Burt's Buzz Trailer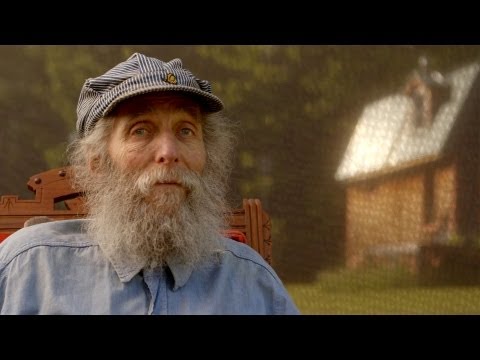 The Pretty Clever Films TIFF13 Coverage is brought to you in part by MUBI, your online cinemeatheque.